WORK WHEELS - WORK EMOTION - CR 2P 18"x7.0" FULL REVERSE
: WORK WHEELS
: CR2P
*Please include the offset you want in check out
 Disk Types
Disk Type Changes Depending on the Needs of Your Car, From the Big Calliper to the Deep Rim!
【R disk】Big Calliper Compatible

The back of the R-Disk ensures plenty of space to prevent any interferences with the calliper. This disk is best for sports and race car drivers who want to install a large brake system.

【A disk】Standard Compatible

The A-Disk is a standard disk type compatible with general brake suspensions. This disk is compatible with a wide range of vehicles, and is best for those who are new to customizing wheels or are looking to make minor design changes to their wheels.

【O disk】Rim Thickness Compatible

The O-Disk in comparison to the A-Disk has the same offset values, however, differs in its thickness of the outer rim. This wheel design is perfect for drivers who prefer the deep dish look.
There' s more than just R,A,and O disk types!
There is a total of 8 disk types from T to W, listed in order of the highest to lowest mounting surface points. Although the standard Work Wheels disk types are R,A, and O depending on the product the disk type will vary. Also, please be aware that depending on the wheel size and disk type you chose for your vehicle, there may be a possibility the wheel may interfere with the calliper even in the case your vehicle is not equipped with a big calliper. In order to prevent possible interferences and damages, please refer to the "Limit Disk" section of the "Work Matching Guide Catalog" in the last chapter of the catalog. Aside from checking if the disk type is listed on the "Limit Disk" chart, if the disk is a thin type then there is a possibility that the wheel will not interfere with the calliper.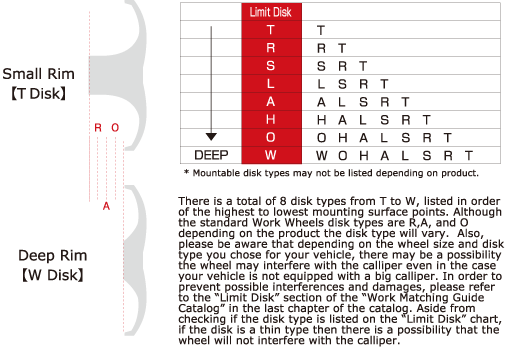 Estimated arrival time 3-4 months